News & Events
Member of the Month
Calvin E. Williams, President/CEO,
Construction Consulting Services, Inc.
"We salute you and the firm for your continued excellence in the Construction Industry".
-Rev. Larry S. Bullock, MPA/MDiv
Offer construction management and consulting services for small-build and commercial projects in the Chicago area.

Currently designing & budgeting an addition for a private residence valued at $105k

Currently completing the renovation of a 12,000sf banquet facility and restaurant valued at $170k

Completed the renovation of a private residential basement with high end finishes valued at $48k

Completed the renovation of a 1200sf turkey restaurant in Chicago valued at $65K

Successfully completed demolition and build-out of 5,000sf Salon, Spa & Cafe valued at $140K.

Completed renovation of residential basement of 1,200sf valued at $25K.

Completed renovation of residential six (6) unit building, total restoration valued at $630K

Provided consultation and strategic planning services for several subcontractors over a six month period.

Solicit contractors, review contracts, and oversee document control, Requests for Information (RFI), evaluation and

negotiation, inspections, and quality assurance.

Identify project purpose, determine external/internal issues, assess goals, and set project benchmarks.

Use construction documents to provide clients with detailed quantity takeoffs and pricing from a construction project's

conception phase to closeout.
We strongly encourage all members to connect with Construction Consulting Services Inc.

800-445-2913
Calvin@CCSI-Midwest.com
Linkedin
Member of the Month
Trinal, Inc. ("Trinal") is a full-service diversity and labor compliance consulting and management company offering both professional and technical services to clients in the public, private, and non-profit sectors in the areas of project management, procurement, community outreach, affirmative action, economic development, vendor/supplier/distributor/buyer expos, and software design and development for affirmation action programs. Trinal was incorporated in the State of Illinois on October 31, 1997 and is located at 444 W. Lake Street, Suite 1700, Chicago, Illinois 60606. MRS. GARCIA-ABNER Trinal's President/CEO and sole owner, Alicia Garcia-Abner, was formerly the Director of Contracts Management for the Chicago Public Schools, as well as a Contract Negotiator and later the Director of MBE/WBE/DBE Certification for the City of Chicago.

CERTIFICATIONS
Trinal is certified with the City of Chicago as a Minority-Owned, Women-Owned, and Disadvantaged Business Enterprise ("MBE/WBE/DBE") and with the Chicago Minority Supplier Development Council ("CMSDC") as a Minority-Owned Business Enterprise. Additionally, Trinal is certified by Central Management Services in the State of Illinois and as a Minority and Female-Owned Business Enterprise ("MFBE") and as an Illinois-Based Small Business and is certified by the SBA as Women-Owned Small Business ("WOSB").

PROJECTS
Trinal has developed, facilitated, monitored, and reported on billions of dollars in construction- related projects over the years. Trinal is currently engaged by a number of public and private sector clients as a consultant in the areas of procurement, economic development, vendor/community outreach, and workforce hiring-related programs, which include the monitoring and reporting of MBE, WBE, and DBE spend and contractors' adherence to minority and women workforce, local residency, and prevailing and/or Davis-Bacon wage requirements.
Member of the Month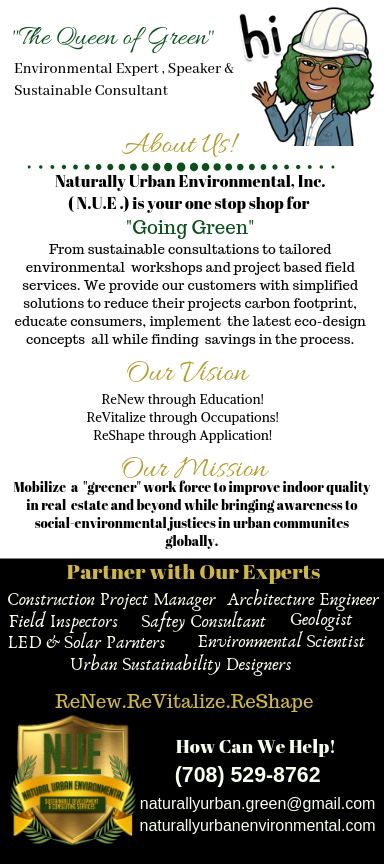 POSTPONED- 3rd Annual USMCA Construction Tech Day Fundraiser
Thursday, April 9th, 2020
Café La Cave Banquet Facility, 2777 Mannheim Road Des Plaines, IL 60018
This year's Theme: "Transformative Technologies in the Construction Industry" seeks to capture the newest digital design, construction and information technology tools in the construction industry. As in the past, this year's conference is organized and sponsored by the United States Minority Contractors Association (USMCA), Architectural Engineering and Technology Division along with the STEM Education Foundation (501C3). Engineering and construction firms seem to find themselves constantly trying to navigate through transformative changes driven by technology. AEC firms will find the conference structured to meet their needs through a renown keynote speaker, distinguished panelists and industry leading exhibitors.
Thursday, April 9th, 2020
Registration opens at 8:00 AM
9:00 AM Program Begins
3:00 PM-5:00 PM Networking\Cocktail Hour (Exhibitor Space open)

PANEL DISCUSSIONS
Legal Implications of Tech in Construction Project Site Technology
Meeting Your Diversity Goals in an Evolving Technology Industry
PRESENTATIONS
Cybersecurity Technology/Digital Techniques for Brand Protection
Reality Capture
Leveraging Multiple Technologies to Create Great Projects
BREAKOUT SESSIONS
Reality Capture, Project Software for the Field, Tech for Safety, AR-VR and Everything in Between
Tech in Your Construction Business, MBE Diversity, and More!
Register Now!
Member of the Month
"Leadership is practiced not so much in words as in attitude and in actions." — Harold S. Geneen.


Joanna is the Founder and CEO of Guepard Group, Corp. Woman owned construction firm. She is versatile, results-oriented, Entrepreneur Construction professional with over 25 years outstanding ability to direct contraction operations including architecture/interior design, operations/ analytics, project controls, quality assurance, craft supervision, material expediting, and all other project administration including planning, scheduling, health and safety programs, purchase agreements and contract administration. Her area of experience include: commercial interiors, multi-family, condo and mixed-use developments, public works and ground-up luxury homes.
Joanna continued her formal education at Loyola University in Chicago where she earned her Bachelor's degree in Business Administration majoring in Marketing with a minor in Political Science; followed by Associate's degree in Interior Design at Harrington College of Design in Chicago, where she participated in studies abroad in Italy. Currently, Joanna is perusing a Master's of Science at McCormick School of Engineering in Northwestern University, Evanston in a program: Executive Management for Design and Construction.
Joanna's Accomplishments are not limited to Golden Alumni Association for Loyola University 2015; National Leadership Award, Honorary Chairman of Business Advisory Council; Who is Who in Executives and Professionals in 2000. She has published two editorials in Chicago Home book 5th & 6th edition. Most notable project to date is the 38 unit condo development in the City of Chicago that was featured on the program "What you get for the Money" in Chicago for $200,000 and this project was also featured in Cavalcade of Homes for the City of Chicago. Provided affordable housing through CPAN project in Chicago and Community Lake Partners in Lake County.
Activities that are near Joanna's heart are USMCA - U.S. Minority Contractor Association, Board Member of the Northland Chapter and REIED; Women Business Development Center; BuiltWorlds - Industry platform. Also, Joanna is an assistant coach and founder of non-for-profit soccer club for boys 9-11 year old boys, Guepard Football Club.
"We are what we repeatedly do. Excellence than, is not an act, but a habit." ~ Will Duran (Not Aristotle)



Guepard Group, Corp.
Construction Firm
WBE, WOSB, EDWOSB, SBE,
WBE for Metropolitan Water Reclamation District of Greater Chicago.
HUD- U.S. Dept. of Housing and Urban Development, Section 3

117 S. Cook Street, Suite 117, Barrington, IL 60010
O|F: 847.387.3518|C: 224.723.3988
guepardgroupcorp@gmail.com | www.guepardgroupcorp.com


The USMCA is proud to honor our latest January 2020 Member of the month, Guepard Group, Corp.
Member of the Month
R.E.A. Masonry, LLC was founded in 2016 by Chicago native and owner Richard
Ates. Richard is a 19 year member of the Bricklayers and Allied Craftworkers
Local 21. R.E.A. Masonry, LLC is a licensed, bonded, and insured contractor
servicing the Chicagoland and surrounding areas. R.E.A. Masonry, LLC is a MBE
and DBE Certified firm holding certifications with various municipalities and
agencies. We are Signatory with both The Bricklayers and Tuck-Pointers Unions,
R.E.A. Masonry, LLC is on the move. We specialize in residential, commercial, and
restorative masonry. Whether it's lintel replacements, chimney repair, or a new
structure R.E.A. Masonry, LLC can deliver.
PROJECTS ON THE BOOKS
1. CTA Greenline Historic Restoration Project: Walsh Construction
2. Cook County Hospital Redevelopment: Walsh Construction
3. O'Hare Airport American Airlines FP Project: F.H. Paschen
PROJECTS COMPLETED
1. Guaranteed Rate Field: Exterior Facade Cleaning
2. UIC Cloisters Project: Facade Restoration (Stone
Removal and Installation): University of Chicago
3. CHA Las America Apartments: Interior Masonry
Demo and Rebuild: Chicago Housing Authority
4. Lafayette Steel: Interior CMU Demo and Lintel Installation: GMA Construction
5. CPS JOC Program: Infinity High School, Claremont High School: F.H. Paschen
NAICS: 238140, NIGP: 91455 , CAGE: 7VGRO
SERVICES INCLUDE
Estimates
Interior & Exterior Inspections
Tuck Pointing
Brick Repair and Replacement
Stone Repair and Replacement
Parapet Demo & Rebuild
Lintel Repair and Replacement
Chimney Repair & Rebuild
New Brick Walls
New CMU Walls
Brick Veneer
R.E.A. Masonry, LLC
8401 S. Peoria St
Chicago IL, 60620
708-731-9239
richardates14@gmail.com
Technical Assistance Powered by the Illinois Tollway
PROGRAM OVERVIEW

Participants will receive comprehensive, customized
business development assistance to build financial
understanding and business plans for increased
stability and growth in the transportation-related
construction industry. Services are customized to
the assessed strengths, challenges and needs of
participating firms. This includes education, guidance
and feedback on general business and constructionspecific operations, including strategic planning
and assistance with the Illinois Department of
Transportation (IDOT) pre-qualification application.
Programs are either self-paced (participants
determine how quickly the program is completed)
or cohort-based (a group setting that invites a
collaborative learning environment).
CLICK HERE FOR MORE INFORMATION